Click on image to enlarge.

Title: Information Sheet, 1950's Highway Proposal, Glover-Archbold Park
A copy of this web page is kept in our database for permanence. The original may be found at this location: http://www.highwaysandcommunities.com/1948-60_Glover_Archold_Parkway.htm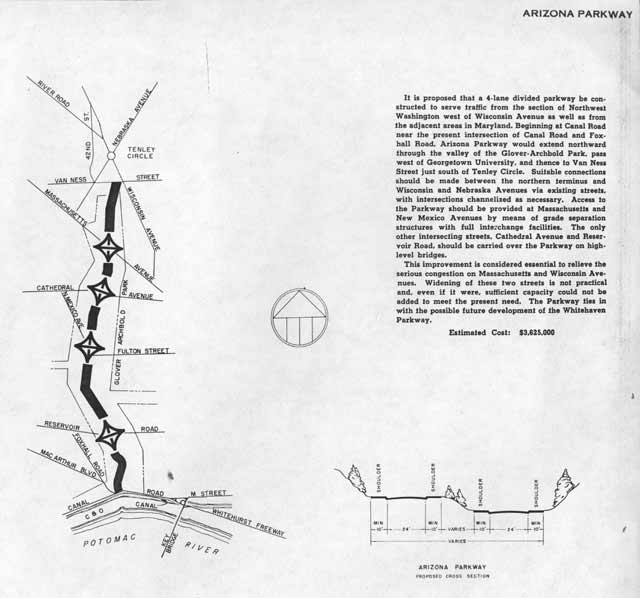 The Glover-Archbold Parkway would appear as a portion of a 1939 proposal for the Fort Drive Parkway, linking the circle of city forts.During the 1950s, Glover-Archbold Park was viewed by roadplanners as the potentially most desirable route for the continuation of a U.S. Route 240 Freeway (I-70S) roughly along Wisconsin Avenue, to the south of Tenley Circle, as seen in a 1957 study; however with this idea precluded by the 1948 NPS agreement prohibiting a road allowing trucks. Hence, by 1959, this road was proposed as a Parkway prohibiting trucks, and connecting southward to a Three Sisters Bridge, with a separate freeway spur for the I-70S continuation (from a split just south of Tenley Circle) eastward paralleling Tilden place, crossing Rock Creek Park, and slicing a new swath through hundreds of homes in Mt. Pleasant, known as the Cross-Park Freeway. Both the 1957 Glover-Archbold Freeway and the 1959 Glover-Archbold Parkway would be protested, before even the latter was enjoined by the U.S. District Court in January 1960, and disappear from formal regional planning by 1962.
Glover Archbold Freeway
1957
In 1957, a study upon extension Route 240/I-70S south of the Capital Beltway and into Washington, D.C., would include two (2) route options roughly paralleling Wisconsin Avenue NW to just south of a tunneled underpass beneath Tenley Circle, and continuing south along through Glover Archbold Park, with one of these route options continuing through the Park before turning east via Whitehaven Park towards Embassy Row, meeting the Inner Loop between 23rd and 24th Streets NW and Massachusetts Avenue, and the other option traveling essentially the entire length of the park to the western Georgetown waterfront to connect with a Three Sisters Bridge to Virginia, a Palisades Parkway, and an expanded Whitehurst Freeway which would connect to the Inner Loop at 27th Street NW and K Street.
Illustrations from 1957 publication "Should Glover-Archbold Park Be Destroyed"
---
update
template
�Copyright 2009 Georgetown University